E anche quest'anno gli Open sono finiti. Come abbiamo visto, il WOD finale 20.5 era una tripletta di muscle up, wall balls e ROW.
Per la prima volta nella storia degli Open non ci sono stati i thruster in finale. Abbiamo visto qualche thruster ma nella versione con i dumbbell nel 20.2. Una skill che è rimasta fuori questa volta son stati i chest-to-bar pull-ups come movimento Rx'd.
Vi sono mancati? Ma anche no.
Comunque è stata una finale molto diversa: è stato permesso agli atleti di dividere le reps del 20.5 a loro piacimento. Questa è una novità che ha aiutato coloro che han voluto farlo in modalità RX. Il muscle ups è un tipo di esercizio da fare quando si è meno stanchi, con la possibilità di fermarsi e riprendere in un secondo momento; questo ha dato maggior carica, ovviamente entro i 20 min di time cap.
VEDIAMO LE PERFORMANCE DEL 20.5 NEL MONDO:
In questo workout ci sono stati molti più atleti a finire nel tempo massimo rispetto alle altre settimane. Guardando i primi 20 paesi per partecipazione, abbiamo suddiviso i punteggi in quattro gruppi: scaled, no muscle ups, alcuni muscle ups e finished.
Tra i primi 10 paesi, la Spagna ha avuto la più alta percentuale di atleti che hanno terminato l'allenamento (17%) e la più alta percentuale di atleti con almeno alcuni muscle ups (51%).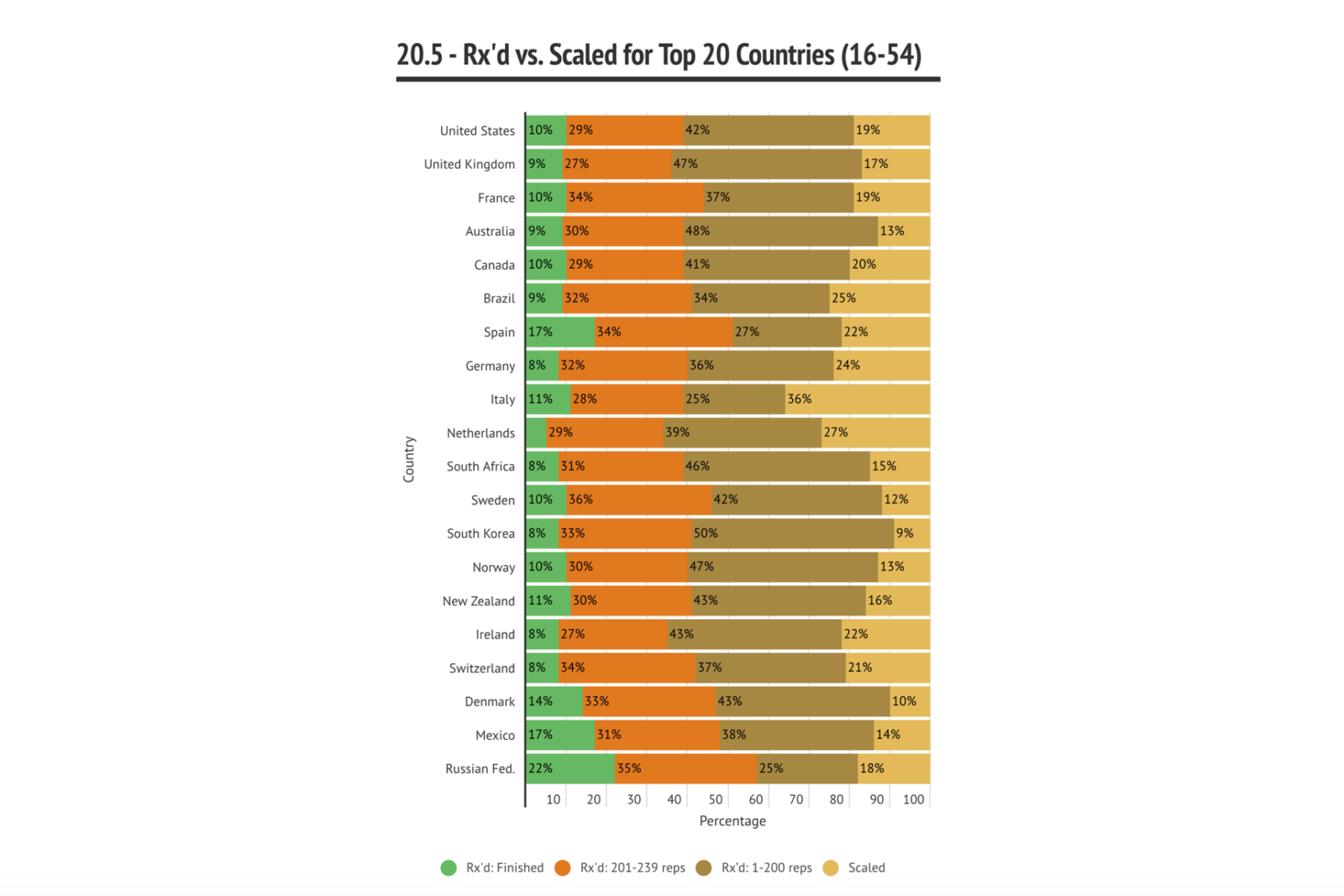 20.5 PROBABILI VINCITORI
Pat Vellner e Sara Sigmundsdottir sono in cima alla classifica dopo la fine del CrossFit® Open del 2020.
Ripetendo l'impresa dello scorso anno, Sara Sigmundsdottir ha guadagnato ancora una volta il primo posto, vincendo il suo secondo Open di fila e il terzo in totale.
Questo è il miglior piazzamento negli Open per Pat Vellner, dato che il suo precedente miglior risultato era un 5° posto nel 2018.
Se i punteggi rimarranno così, il Canada si aggiudicherà sia il primo che il secondo posto in classifica per gli uomini, mentre per le donne sarà l'Islanda.
Tuttavia, ancora devono uscire i risultati ufficiali dei vincitori dei WOD 20-3, 20.4 e 20.5. La classifica finale verrà stabilita entro e non oltre il 16 dicembre, quando CrossFit HQ avrà completato il processo di revisione dei video.
Una volta che tutti i migliori punteggi saranno stati confermati, verranno annunciati i Campioni Nazionali e la top 20 (escludendo i campioni nazionali). Questi atleti riceveranno un invito ai CrossFit Games.
LA CLASSIFICA AD OGGI
Donne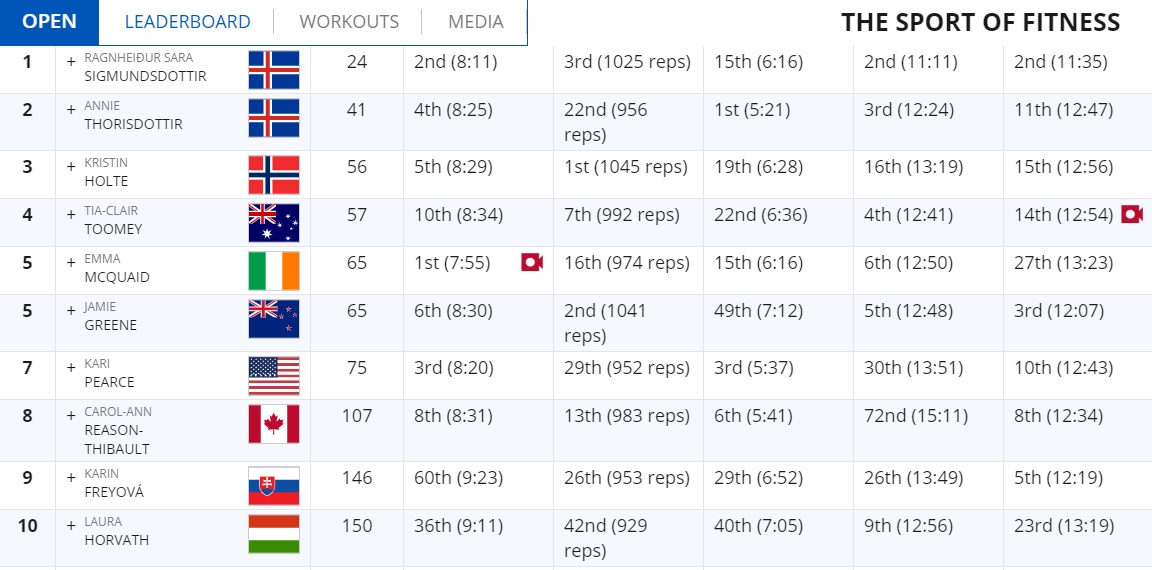 Uomini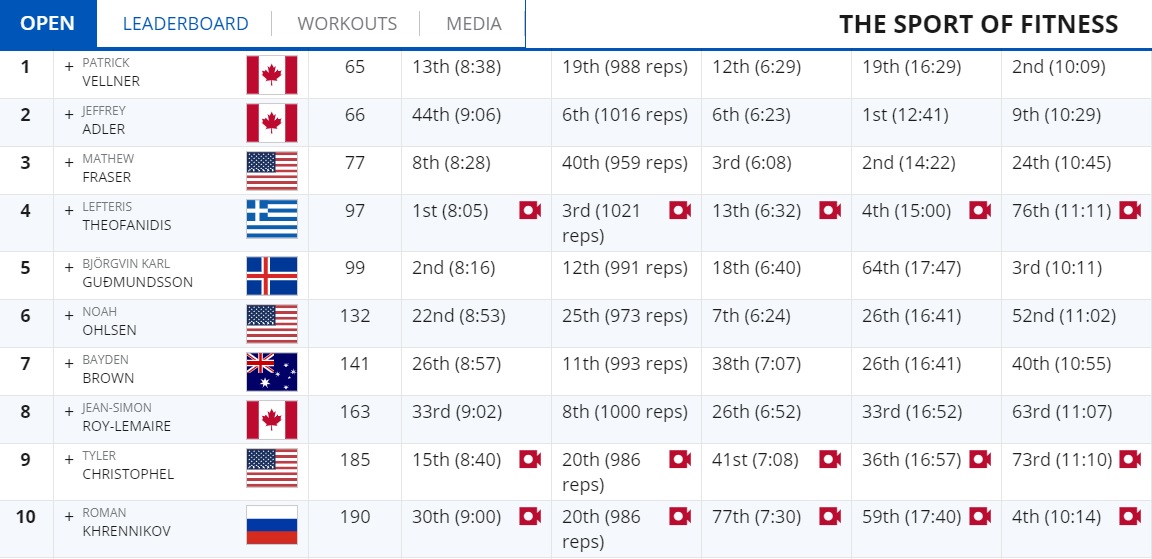 I VINCITORI DEI WORKOUT
Con prestazioni stupefacenti, sia Emma McQuaid che Lefteris Theofanidis hanno vinto il 20.1.
Per la seconda settimana degli Open, Kristin Holte e Frederik Aegidius hanno ottenuto le vittorie complessive con un margine molto breve.
Come detto prima, stiamo ancora aspettando l'annuncio ufficiale dei vincitori degli allenamenti 20.3, 20.4 e 20.5. Ma ve lo faremo sapere a breve! Quello che è assodato è che ogni vincitore dell'allenamento riceve $ 2,020.
È un bell'incentivo, no?
Con un tweet, CrossFit ha lasciato tutti a sognare i prossimi Games 2020
"The top 20 men and women at the end of the Open qualify for the 2020 Reebok CrossFit Games, together with all eligible National Champions."
Beh, allora in bocca al lupo e ci vediamo prossimamente per i risultati finali di questi Open CrossFit 2020. Restate collegati con i nostri canali YouTube, Facebook e Instagram per restare sempre aggiornati!