Mostra il tuo supporto per CrossMAG!
CrossMAG è sinonimo di comunità, spirito di squadra e compagnia. È il luogo in cui le persone si incontrano e condividono la loro passione per il fitness attraverso la narrazione scritta e visiva. Se la nostra filosofia coincide con la tua, prendi il nostro banner e inseriscilo sul tuo sito / blog.
Qual è il compito dei media partner?
Pubblicizzare le tue iniziative con i social network, il magazine, podcast o streaming
Creare articoli, video, materiali o immagini riguardanti manifestazioni e divulgare l'iniziativa.
Per aggiungere il banner, seleziona il codice e copialo nella barra laterale.
Show your support for CrossMAG!
CrossMAG stands for community, team spirit and companionship. It's the place where people of all backgrounds, ages and nationalities come together and share their competitive fitness passion through written and visual storytelling. If our philosophy matches up with yours, grab our badge and paste it on your website/blog.
What is the task of media partners?
Advertise your initiatives with social networks, magazine, podcasts or streaming
Create articles, videos, materials or images about events and disseminate the initiative.
To add the banner, select the code and copy it in the sidebar.
Logo bianco da utilizzare su sfondo scuro con riquadro – Get code: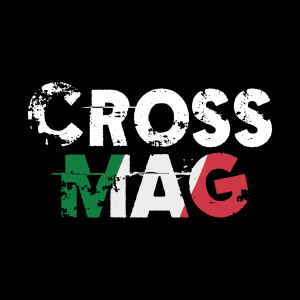 ---
<a href="//crossmag.it/"><img src="//crossmag.it/wp-content/uploads/2019/04/face00-300×300.png" style="width:82px; height:86px" title="CrossMag" alt="Crossmag.it"></a>
---
Logo nero da utilizzare su sfondo chiaro – Get code:

---
<a href="//crossmag.it/"><img src="//crossmag.it/wp-content/uploads/2019/04/nero.png" style="width:1024px; height:200px" title="CrossMag" alt="Crossmag.it"></a>
---
Logo colorato da utilizzare su sfondo scuro – Get code:

---
<a href="//crossmag.it/"><img src="//crossmag.it/wp-content/uploads/2019/04/colorato.png" style="width:1024px; height:200px" title="CrossMag" alt="Crossmag.it"></a>
---
Logo bianco da utilizzare su sfondo scuro – Get code:

---
<a href="//crossmag.it/"><img src="//crossmag.it/wp-content/uploads/2019/04/bianco.png" style="width:1024px; height:200px" title="CrossMag" alt="Crossmag.it"></a>
---