Eccoci ragazzi! È arrivato l'evento Sanctional più atteso della stagione: il Rogue Invitational 2021! Saranno 3 giorni (fino al 31/10) di tante emozioni al Dell Diamond Stadium in Texas.
Lo stadio ha 12.000 posti a sedere all'aperto e questa volta oltre alle batterie di eventi CrossFit®, avremo anche una competizione Strongman!
Rogue Invitational 2021: come assistere
Tutto l'evento sarà trasmesso in streaming in diretta sul canale YouTube di Rogue Fitness, a partire da oggi alle ore 18:00 (ora italiana).
E guarda cosa ti aspetterà:
Competizione CrossFit®
Gara Legends CrossFit®
Gara Strongman
Eventi Rogue Record Breaker
Un totale di 40 atleti – 20 uomini e 20 donne – sono stati invitati a gareggiare nella competizione CrossFit® d'élite, tra cui il campione in carica Patrick Vellner e Tia-Clair Toomey-Orr, quattro volte Fittest Woman on Earth®.
Nella divisione Legends, nove uomini e sette donne sono confermati nell'elenco, come il quattro volte Fittest Man on Earth®, Rich Froning.
La gara di Strongman presenta 10 dei migliori atleti di questo sport, tra cui l'uomo quattro volte più forte del mondo (WSM) Brian Shaw e l'attuale campione WSM Tom Stoltman.
Strongman al Rogue Invitational
La gara inaugurale Strongman al Rogue Invitational ha i più alti montepremi di qualsiasi competizione strongman nella storia di questo sport.
Il primo classificato riceverà oltre $ 130.000 al momento della pubblicazione di questo articolo (il premio aumenta con la vendita dei biglietti) e tutti e 10 gli atleti se ne andranno con un minimo di $ 4.000.
Rogue Invitational – Strongman Roster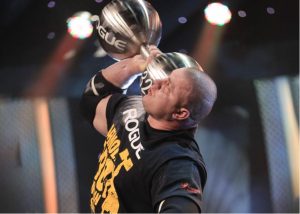 Brian Shaw
Tom Stoltman
Luke Stoltman
Martins Licis
Mateusz Kieliszkowski
Robert Kearney
JF Caron
Mikhail Shivlyakov
Jerry Pritchett
Oleksii Novikov
I 10 atleti della lista sono i migliori atleti della categoria. Quattro dei 10 uomini in lista hanno già vinto il concorso WSM (Brian Shaw, Tom Stoltman, Oleksii Novikov, Martins Licis), altri due sono saliti sul podio WSM (Mateusz Kieliszkowski, JF Caron), e tutti tranne uno sono arrivati ​​in finale al WSM – Rob Kearney è l'unica eccezione.
Inoltre, la gara Rogue Invitational Strongman presenta il tanto atteso ritorno di Martins Licis alle competizioni dopo diversi anni, appena tornato da uno degli ultimi infortuni che l'hanno afflitto negli ultimi tempi.
Rogue Invitational – Eventi Strongman
La competizione consisterà in cinque eventi distribuiti su due giorni.
Primo giorno – venerdì 29 ottobre 2021
Rogue Elephant Bar Max Deadlift
Cyr Dumbbell Ladder
Secondo giorno – sabato 30 ottobre 2021
The Wheel of Pain (la ruota del dolore)
Yoke carry  e  Overhead Log Lift Medley
Stone Over Hitching Post
2021 Rogue Invitational CrossFit®
La competizione Rogue Invitational CrossFit® 2021 pagherà il premio più alto di qualsiasi competizione CrossFit® sanzionata al di fuori dei CrossFit® Games.
Il vincitore assoluto riceverà oltre $ 250.000. Come per la competizione di Strongman, tutti gli atleti torneranno a casa con i soldi in tasca, poiché a tutti i partecipanti sono garantiti $ 5833.
Il premio per la competizione CrossFit® Legends non è stato annunciato.
2021 Rogue Invitational Roster – Divisione Maschile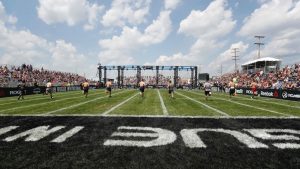 Justin Medeiros
Patrick Vellner
Björgvin Karl Guðmundsson
Saxon Panchik
Guilherme Malheiros
Alex Vigneault
Lazar Ukic
Travis Mayer
Jeffrey Adler
Cole Sager
Andrew Houdet
Henrik Haapalainen
Jayson Hopper
Will Moorad
Chandler Smith
Ben Smith
Alexander Caron
Uldis Upenieks
Jason Smith
Samuel Kwant
2021 Rogue Invitational Roster – Divisione femminile
Tia Clair Toomey Orr
Laura Horvath
Annie Thorisdottir
Kristin Holte
Haley Adams
Gabriela Migala
Mallory O'Brien
Kristi Eramo O'Connell
Amanda Barnhart
Katrín Davisdottir
Danielle Brandon
Emma McQuaid
Thuridur Erla Helgadottir
Arielle Loewen
Emily Rolfe
Sam Briggs
Kari Pearce
Emma Cary
Carolyne Prevost
Jacqueline Dahlstrom
Eventi individuali 2021 Rogue Invitational
Un totale di sette eventi distribuiti su tre giorni compongono il Rogue Invitational 2021.
Evento Uno – GORUCK | venerdì 29 ottobre
For Time
Tirare la carriola fino a "Zeus" (Rig  Rogue)
10 over under log on Zeus
5 rope climb
3 sandbag to top of hill (50/35 lb)
5 rope climb
10 over under log on Zeus
Spingere la carriola con un sacco di sabbia GORUCK (30/20 lb) fino alla linea
Evento due – Bella Complex | venerdì 29 ottobre
Max load:
1 clean
1 shoulder to overhead
1 front squat
1 shoulder to overhead
Evento tre – Echo Burner | sabato 30 ottobre
For time
20 thrusters (115/75 lb)
40/32 echo bike
20 thrusters (115/75 lb)
Evento quattro – Concept2 | sabato 30 ottobre
4 round for time:
21 cal SkiErg
21 Med Ball GHD sit-ups (14/10 lb)
Run Hill
Evento cinque – The Mule | sabato 30 ottobre
21-15-9 ripetizioni di:
Deadlift (315/225 lb)
Burpee Pull-up
Evento sei – Chipper | domenica 31 ottobre
For time:
45/40 cal row
35 box step ups com sandbag (70/50 lb)
30 strict HSPU
15 ring muscle up
Jerry can carry (100/70)
15 ring muscle up
30 strict HSPU
35 box step ups com sandbag (70/50 lb)
45/40 cal row
Evento sette – Da definire | domenica 31 ottobre
L'evento finale del Rogue Invitational 2021 rimarrà un mistero fino al momento della competizione.
Il programma degli eventi di Legends è stato rilasciato, ma i dettagli dei tre eventi no. Ci sarà un evento in ogni giorno della competizione, dal 29 al 31 ottobre 2021.
Visualizza questo post su Instagram
2021 Rogue Invitational Legends – uomini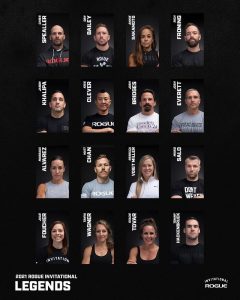 Chris Spealler
Dan Bailey
Jason Khalipa
Josh Bridges
Josh Everett
Matt Chan
Mikko Salo
Rich Froning
Tommy Hackenbruck
Khalipa è l'attuale campione della divisione Legends, ottenendo il primo posto assoluto nel 2019.
2021 Rogue Invitational Legends– donne
Annie Sakamoto
Julie Foucher
Kristan Clever
Margaux Alvarez
Rebecca Voigt Miller
Tanya Wagner
Stacie Tovar
Sam Briggs ha vinto il Legends nel 2019, ma quest'anno competerà nella divisione élite.